Bin Ham cooperates with "TGCC" Moroccan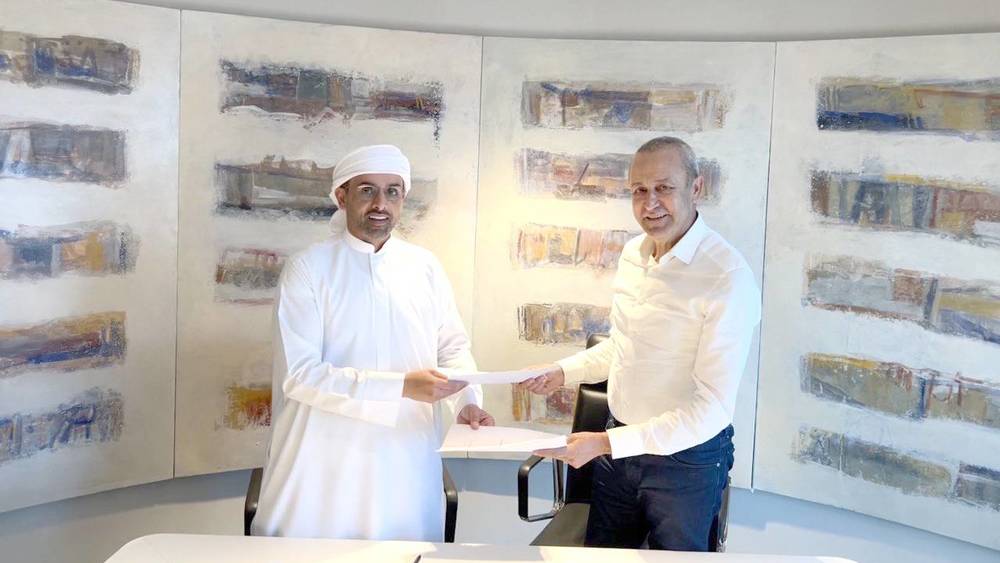 Gulf Newspaper – Abu Dhabi
Bin Ham Group announced the signing of a memorandum of understanding agreement with "TGCC Moroccan" in its investment project in the Moroccan capital, Rabat, which includes a commercial center and a 5-star hotel.
The signing of the agreement was attended by Sheikh Ahmed bin Musallam bin Ham, CEO of the Bin Ham Group and Eng. Mohamed Bouzoubaa, CEO and General Manager of TGCC in the field of implementation and development of construction and tourism projects in Morocco and the Arab world.
Since its beginnings in 1991, TGCC innovative international projects, including: airports, train stations, sports stadiums, residential towers, and tourist resorts
The Moroccan company is one of the most prominent companies in the field of real estate development in the Arab world and has a good reputation delivery of projects that it supervises.
Sheikh Ahmed bin Musallam bin Ham Al Ameri said that cooperation with the leading group in the construction of major projects "TGCC" comes within the framework of the relations between the UAE and the Kingdom of Morocco under the wise leadership of His Highness Sheikh Khalifa bin Zayed Al Nahyan, President of the United Arab Emirates, may God protect him, and his brother, Mohammed VI, King of the Kingdom of Morocco, and the follow-up of His Highness Sheikh Mohammed bin Zayed Al Nahyan, Crown Prince of Abu Dhabi and Deputy Supreme Commander of the Armed Forces.
Bin Ham praised the pioneering reforms launched by King Mohammed VI, which made Morocco a preferred destination for Emirati investments, and a safe and ideal environment that succeeded in attracting many Emirati companies, led by the Bin Ham Group, which is looking to diversify its investments.
Eng. Mohamed Bouzoubaa said that we are proud of our partnerships with the Bin Ham Group to implement this project, which will have a major role in supporting the Moroccan economy and constitute an important tributary of the recreational, commercial and tourism facilities in Rabat, and we look forward to the success of this experiment so that other projects can be launched in the future.
It is worth noting that the project consists of a large shopping center on an area of 22,000 square meters that provides about 1,000 parking spaces. The mall is connected to a 5-star hotel that includes 201 rooms and suites, in addition to a main banquet hall that can accommodate 500 people. The hotel also includes 5 international restaurants. Health club, indoor garden and swimming pool